Energy storage batteries critical to electricity market: CEFC
The role of energy storage batteries in Australia's future electricity market is critical, claims the Clean Energy Finance Corporation (CEFC).
The comments come as the corporation released record renewable investment figures for 2017-18.
The government-funded finance body directly committed to 39 projects in the past financial year, up from 36 the previous year.
The CEFC invested $1.1 billion in renewables and $939 million in energy efficiency projects between 2017 and 2018. Total new commitments of $2.3 billion were made during this time. This compares with $2.1 billion in the previous financial year.
Energy storage batteries play larger role in CEFC projects
According to CEFC CEO Ian Learmonth, the battery increase is because storage technologies extend the benefits of low-cost wind and solar installations across the network.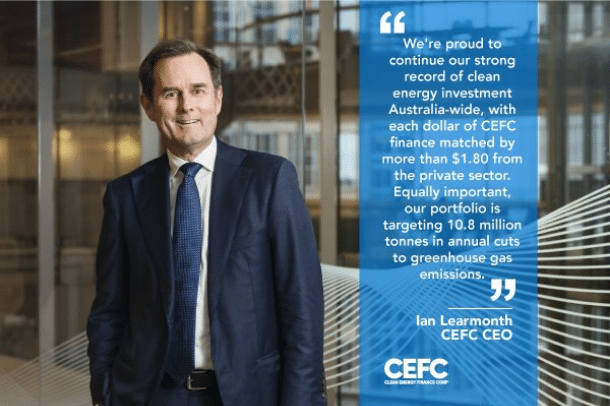 The CEFC's Ian Learmonth says supporting energy storage batteries is a vital part of Australia's future energy mix. Image: CEFC
The CEFC has contributed to four large-scale renewable projects featuring energy storage since starting in 2013. Twenty-four smaller storage projects have also been co-financed by partners.
The Federal Government is keen to develop battery and pumped hydro storage. This will counter the intermittency of wind and solar power generation. It's also an effective way to exploit falling solar costs.
Major storage projects around Australia include:
The 212MW Lincoln Gap Wind Farm planned for Port Augusta in South Australia with around 10 MW of battery storage.
Kennedy Energy Park in central north Queensland will be Australia's first fully integrated wind, solar and battery project. It features 15 MW of solar generation and 2 MW of storage.
Kidston Renewable Energy Hub near Townsville will be Australia's first large-scale solar farm co-located with pumped hydro storage.
Sandfire Resources' DeGrussa Copper-Gold Mine in remote WA will also feature a 10 MW solar plant with 6 MW battery storage.
CEFC investing in solar battery storage projects
The CEFC is regarded as Australia's largest dedicated investor in clean energy projects and breakthrough technology.
The CEFC invested in 10 large-scale solar projects and four wind farms between 2017 and 2018. This will eventually deliver an extra 1,100 MW of clean energy across Australia.
The finance body is also keen to develop a range of new technologies. These include behind-the-meter, battery storage and low-emissions transport.